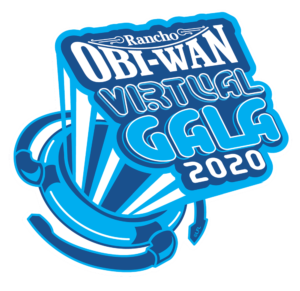 Welcome to Rancho Obi-Wan's Virtual Fundraising Gala 2020
Archived Gala stream now available for viewing
for ticket holders through 11/30! Tickets still available!
Your donations help us protect the collection, maintain the facility,
and develop new programs of inspiration and education.
Funds raised are used for insurance, utilities, taxes, fees, security, professional services,
maintenance on the buildings, and protection and preservation of the collection.
None are EVER used to acquire OR ship collectibles.
URGENT needs this year due to threat of fire in California:
32% increased insurance, installation of rooftop sprinklers, and maintaining defensible space!
Home
Schedule
Wine Tasting
Cosplay
Scavenger Hunt
Draw
Trivia
Wheel
Auction
Store
Ticket
View Stream
Rancho Obi-Wan is a nonprofit museum in Petaluma, California housing
the Guinness World Records™ largest Star Wars collection.
Our mission is to inspire people to be imaginative, creative, curious and to learn new crafts
by showcasing the toys, books, posters, comics, works of art, fan-made pieces, and more
in a warm, joyous, inclusive environment resulting in a fun, authentic fan experience.

In a non-pandemic year, we would invite approximately 150 of you to our home for a festive party with food, drinks, auctions, prizes, and live entertainment. In 2020, we are excited to present an online Gala for the entire galaxy that will provide as much fun, interactive entertainment, and interesting content as we could offer in our virtual space.
Rancho Obi-Wan President and CEO Steve Sansweet has candid conversations with influential folks in the Star Wars community and there are guided tours of usually unseen parts of the museum. Check out the costume contest and scavenger hunt winners and take a drawing class with Spencer Brinkerhoff.
Tickets to view Rancho Obi-Wan's Virtual Fundraising Gala 2020 Archived Stream are $30 and are available through 11/30/2020.
Profound thanks to our Guests scheduled to appear:
Dave Filoni, Brian Rood, Ashley Eckstein, Spencer Brinkerhoff, Clayton Sandell, Matt Busch, Don Bies, John Scoleri, Jim Swearingen, Michael McMaster, Tom Hutchens, Sam Witwer, Matt Senreich, Dan Madsen, James Arnold Taylor, Jerry Vanderstelt, Howard Roffman, Chris Bartlett, Oliver Steeples, Mark Raats, Ryder Windham, Christine Taylor, Albin Johnson, Lawrence Noble, Ben Stevens, Chris Trevas, Ben Burtt, Joe Corroney, Bonnie Burton, Chris Reiff, Nita Strauss, Lee Towersey, and Seth Green.
Unending thanks to our Volunteers:
Steve Sansweet, Bob Canning, Anne Neumann, Stew Levy, Victoria Webb Photo, Duncan Jenkins, Gus Lopez, Michael Wistock, Pete Vilmur, Rich Smolen, Consetta Parker, Mark Rusciano, Dan Norgan, Jon Nagel, Marc Morita, David Buckley, Tracy Kelly, Tom Johnson, Eric Ehrlich, Richard and Sarah Woloski, Vaj Potenza.
Many thanks to our Donors and Sponsors:
Martin Lister, Peter DeForest, Janet Stearns, Richard Cowie, Geek Burning, Charmaine Cuddie, Michael Wistock, Brian Mah, Kim D.M. Simmons, Ben Stevens, Mary Thomson & Cherie Buchheim, Dwayne Smith, Patrick Scullin, Lucasfilm, Rob Amantea, Ryder Windham, Adam Schickling, Blender Bottle, Joe Corroney, Aileen Sweeney, Pete Vilmur, Geeki Tikis, and…
Get to know ROW below:
All times are Pacific Time. Be sure to adjust according to your time zone.
Friday, November 20, 2020
Saturday, November 21, 2020
Schedule subject to change
12:00 PM
Welcome to the Gala!

12:03 PM
Seth Green
Actor, voice artist, comedian, producer, writer and director. He is known as a co-creator, executive producer, and most frequent voice on Adult Swim's Robot Chicken.

12:24 PM
Sam Witwer
Voice of Darth Maul in Star Wars: The Clone Wars, Darth Vader's Secret Apprentice in Star Wars: The Force Unleashed, and Maul and Palpatine in Star Wars Rebels.

12:38 PM
Chris Reiff
Chris Reiff is an illustrator and product designer with more than 20 years experience working on official Star Wars projects.

12:51 PM
Lawrence Noble
Artist, sculptor and owner of Noble Studio. He is known for sculpting the statue of Yoda on display at Lucasfilm's Letterman Digital Arts Center.

1:07 PM
Jerry Vanderstelt
Official Lucasfilm Artist and
licensed Lord of the Rings and Hobbit artist.
1:19 PM
The "Rancho" in Rancho Obi-Wan Part 1

1:34 PM
Lee Towersey
Lucasfilm R2-D2 builder & operator on The Force Awakens, Rogue One: A Star Wars Story, The Last Jedi, Solo: A Star Wars Story & The Rise of Skywalker.

1:41 PM
Oliver Steeples
Oliver Steeples is a long-time member of the R2 Builders Club and known for his work on Star Wars: The Force Awakens and Secrets of the Force Awakens: A Cinematic Journey.

1:53 PM
Michael McMaster
Prop builder, Droid Wrangler for Lucasfilm and a member of the R2 Builders Club since 2001.
2:06 PM
Q&A w/ Chris Reiff

2:17 PM
Don Bies
Special effects artist and actor who worked on the Star Wars special editions and prequels.

2:31 PM
Matt Senreich
Producer and writer known for Robot Chicken.

2:43 PM
Matt Busch
Writer and illustrator of dozens of Star Wars Books. Matt provided almost 400 drawings and paintings for the critically acclaimed You Can Draw Star Wars book from DK Publishing.

2:52 PM
Mark Raats
Artist and official Illustrator for Lucasfilm/Disney with a long history of working in the film industry.
3:11 PM
Rancho Obi-Wan's Action Figure Collection
3:26 PM
Q&A w/ Mark Raats
3:37 PM
The "Rancho" in Rancho Obi-Wan Part 2

3:44 PM
James Arnold Taylor
Voice of Obi-Wan Kenobi and Plo Koon in Star Wars: The Clone Wars, voice-double for Ewan McGregor and many more!

4:05 PM
Dan Madsen
Former president of the Official Star Wars Fan Club and the founder and former publisher of the Star Wars Insider magazine.

4:24 PM
Ben Burtt
Lucasfilm Sound designer, film editor, director, screenwriter, and voice actor.

4:47 PM
Chris Trevas
Chris has been an official Star Wars artist since 1995.

4:58 PM
Ben Stevens
Star Wars fan and founder of Dallas-Comic-Con, owner of Galactic Gallery in Flower Mound, TX
5:07 PM
Rancho Obi-Wan's Poster Collection

5:26 PM
Ashley Eckstein
Ashley is the voice of Ahsoka Tano throughout the Star Wars franchise, actress, author and founder of Her Universe fashion label.

5:45 PM
Chris Bartlett
His work includes portraying Star Wars character See-Threepio on television for the past fourteen years and Q9-0 "Zero" on The Mandalorian.

6:04 PM
John Scoleri
Author of several books on artist Ralph McQuarrie, including The Art of Ralph McQuarrie: ARCHIVES
6:24 PM
Q&A Chris Bartlett

6:34 PM
Dave Filoni
Writer, Director, Producer of The Mandalorian, Executive Producer of Star Wars Rebels. Former Supervising Director of Star Wars: The Clone Wars.
6:55 PM
Closing ceremony
| | |
| --- | --- |
| 7:00-8:00 PM | Skywalker Vineyards Virtual Wine Tasting via Zoom |
| | |
| --- | --- |
| 9:00-10:00 PM | Late night Trivia After-Party on Facebook |
Skywalker Vineyards Wine Tasting Add-On
The wine tasting is over. Thank you for participating! Please visit Skywalker Vineyards to purchase wine.
First-Ever Gala Costume Contest
And the winners are:
| | |
| --- | --- |
| Adult 1st Place: Chris Kowalski | Adult 2nd Place: Shelley Hawkins |
| Adult tie for Audience Favorite: Richard Woloski | Adult tie for Audience Favorite: Samuel Mauch |
| Child 1st Place: Max & Marcus Fong | Child 2nd Place: Asher Sheray |
| Child Audience Favorite: Jacob Ruth | |
Scavenger Hunt
And the winners are:
1st Place: Joel & Debra Luker (29/30 points)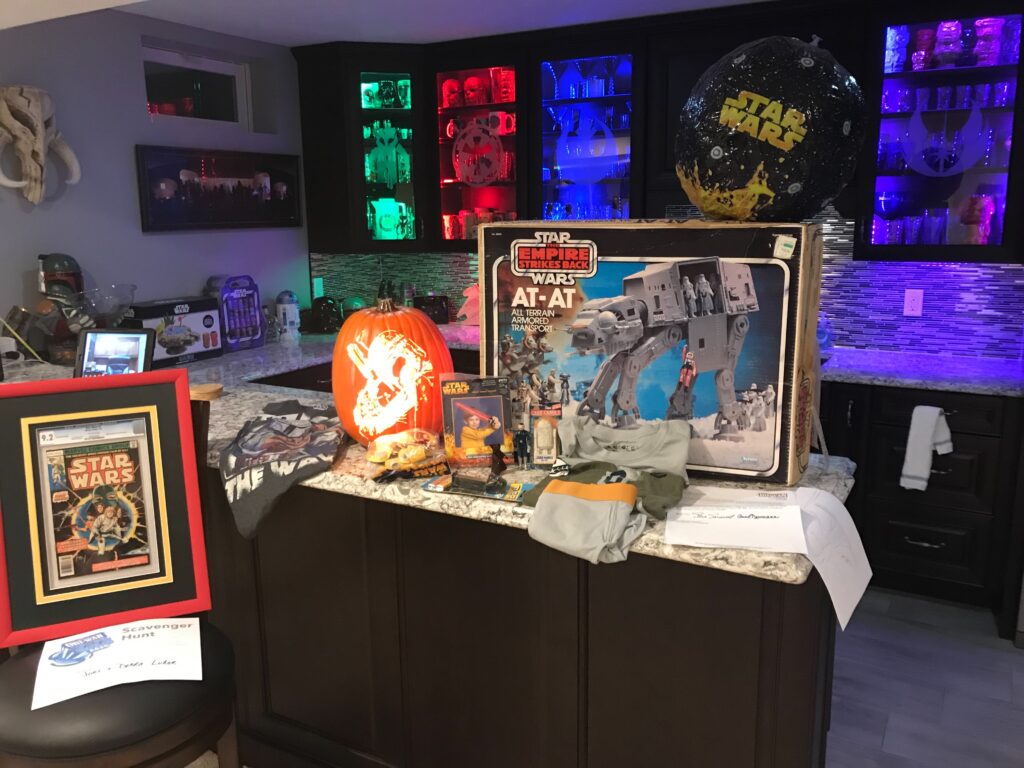 2nd Place: Chadwick Miller (28/30 points)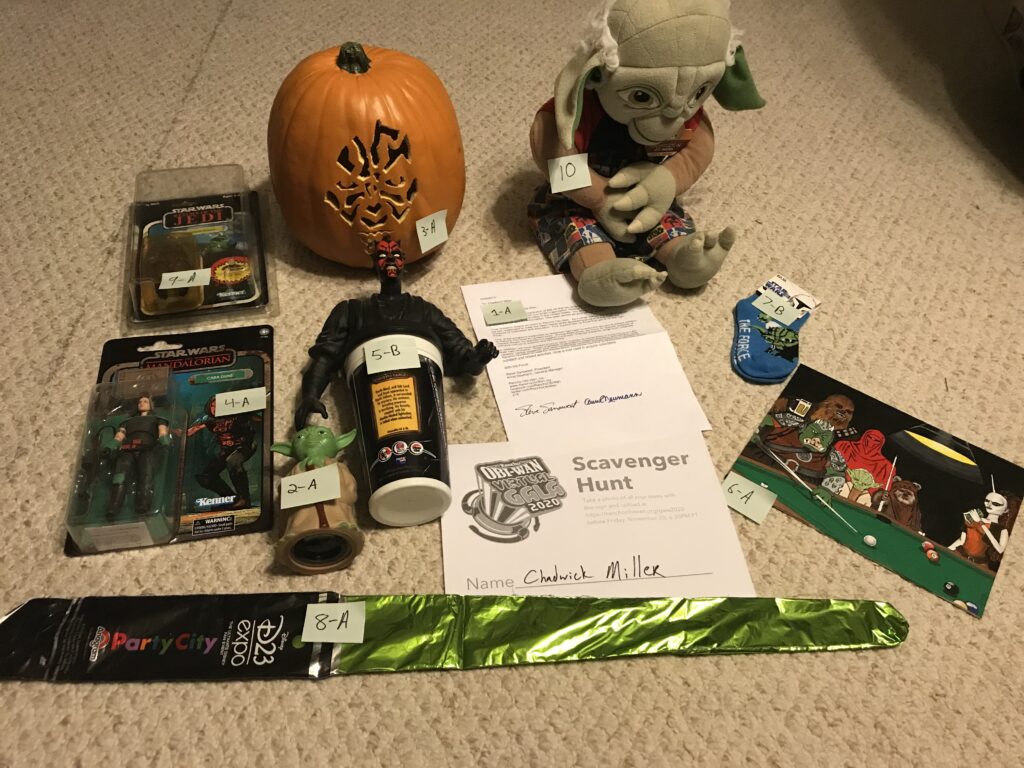 How to Draw Star Wars with Spencer Brinkerhoff
Info | View Drawing Video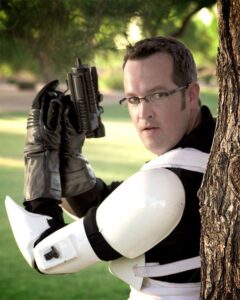 "I started drawing and making art at an early age and never stopped. After graduating with a Fine Arts Degree from Arizona State University, I wasn't sure how to find "real" work so I kicked around a bunch of different jobs. I've sculpted some of the horses for the PF Chang's restaurants, animated an educational game for the World Health Organization, created and starred in a video that helped me Burt Reynolds' Trans Am. But one of my greatest accomplishments is to be an officially licensed Star Wars artist. Oh! And a husband and Father! Whew! I dodged a bullet there. I am a full-time creative, a part-time Star Wars artist, and hold down a day job as a curriculum designer and trainer. In addition to those accomplishments, I've also created an in-camera special effect keychain called LightStickFX (it magically adds laser beams to your photos), and a drawing system called DrawingIsSimple (DIS, simply trace around the patented coin, mark the guides and you've already started drawing!)."
You'll need blank paper, a pencil with eraser, and a coin (like a quarter). Practice by downloading the Official Drawing Practice Sheet. Then download the Official Drawing Sheet and follow along with Spencer.
Spencer's newly published book You Can Draw Comic Book Characters is available on Amazon.com.
Late Night Star Wars Trivia After Party
The Late Night Star Wars Trivia After Party is over. Thank you for participating!
The Gala Wheel
The Gala Wheel is no longer available. Thank you for participating!
Gala Exclusive Store
The Gala exclusive store is closed. Thank you for participating!