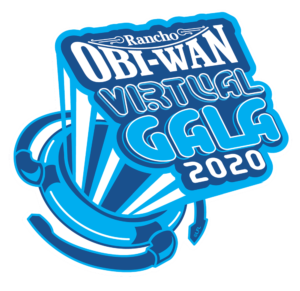 Welcome to Rancho Obi-Wan's Virtual Fundraising Gala 2020
November 20th-November 21st
Your donations help us protect the collection, maintain the facility, and develop new programs of inspiration and education.
You will have immediate full access to the
Gala Page
after your ticket purchase. Remember your username and password to login should you get disconnected. To participate, all you need is a smart phone, tablet, or computer with a browser connected to the Internet.
Your login can only be used on one device at a time.
Gala tickets are on sale through November 30th and give the holder immediate access to the Gala page, the live streams on Friday and Saturday, November 20-21, 2020 and to the archived stream available starting Sunday, November 22 through November 30, 2020.
Purchase tickets for friends over HERE.
---
TERMS & CONDITIONS:
This ticket is not refundable and content may not be available at a later date.
This ticket is not a tax-deductible donation.
Donations made within the event are tax-deductible.
It is expected that all attendees will act with kindness and decorum. We are all here to share our mutual love of Star Wars. Come back to this commonality if your find yourself in a divisive situation.
This event shall be politics-free. Please do not discuss politics of any kind.
This event shall be spoiler-free. Please do not discuss plot points of The Mandalorian as some attendees may not have seen it yet.
Please keep your interaction during this event kid-friendly. No cussing, no nudity, etc.
Any attendee who violates these terms and conditions may have their access to the Gala Event Page removed, denied or restricted at the discretion of Rancho Obi-Wan. No refund shall be given.
In accepting this ticket to login to the Gala Event Page, view the presentation, make comments, ask questions or participate in any of the activities, and in consideration for being given the access link, the holder consents to being recorded (by audio, visual, holographic, holonet and/or other means) for exhibition and exploitation by any means in all media now known or hereafter devised galaxy-wide until the end of time. Holder also hereby: (1) releases Rancho Obi-Wan, its now poverty-stricken owner, [underpaid] employees, volunteers, and vendors from any liability for loss or damage to persons or property, infringement of any right [including that of sanity], or any other claim or course of action of any kind, including overpowering urges to buy lots of Star Wars stuff; (2) authorizes and permits Rancho Ob-Wan to use and authorizes the use of his/her name, voice, likeness, and all reproductions thereof by any means and in all media now and hereafter known for all purposes far, far away and for a long, long time; and (3) agrees to comply with all the rules and regulations of the event.
By purchasing this ticket you agree to the terms and conditions described on this page.
Rancho Obi-Wan Virtual Fundraising Gala 2020 is not associated with Lucasfilm. Star Wars and all associated property is © Lucasfilm Ltd. & ™. All rights reserved. Rancho Obi-Wan is a proprietary term used under authorization.
Rancho Obi-Wan, Inc. is a public charity under section 501(c)(3) of the United States Internal Revenue Code, tax ID 45-3771886. You may be able to deduct donations from your federally-taxable income. Contact a tax professional for details on your specific situation.