Home
Schedule
Mando
Name
ROW
Grogu
Tots
Wheel
Raffle
Store
Trading Cards
Rancho Obi-Wan presents The Saga Museum
at Star Wars Celebration Anaheim 2022
A world-class collaboration featuring treasures from the collections of
Steve Sansweet, Gus Lopez, Duncan Jenkins, and Lisa Stevens & Vic Wertz
3rd Floor Room 304B
Exhibits:
Boba Fett to Bo-Katan: The Evolution of the Mandalorians
What's in a Name
10 Years of Rancho Obi-Wan
Cascading Grogu in Ombre
History of Star Tots
Back by popular demand:
The Spinning Wheel
Fundraising Raffle
General Store with all-new merchandise
New this year:
Trading Cards! Collect them all!
All times are Pacific Time. Schedule subject to change.

Thursday, May 26, 2022
10:00 AM-7:00 PM
Exhibit hours
12:30 PM-1:30 PM
Steve Sansweet Signing
3:30 PM-4:30 PM
Amy Ratcliffe Book Signing
5:00 PM
Raffle drawings

Friday, May 27, 2022

Saturday, May 28, 2022

Sunday, May 29, 2022
| | | | |
| --- | --- | --- | --- |
| 10:00 AM-5:00 PM | Exhibit hours | | |
| 10:30 AM-11:30 AM | Dan Madsen Signing | | |
| 3:00 PM | Raffle Grand Prize drawing | | |
EXHIBIT: Boba Fett to Bo-Katan: The Evolution of the Mandalorians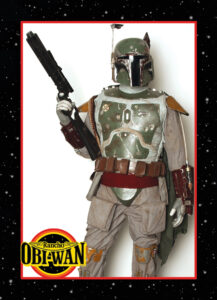 One of the reasons that George Lucas created Star Wars, he has said, is that children in the 1970s were growing up without culturally inspired stories such as the Westerns that in an earlier era filled theaters and ruled the airwaves.
When The Empire Strikes Back premiered, the new bounty hunter Boba Fett had little screen time and spoke just a few words, but his alluring battle-worn armor gave him an air of mystery—much like the gunslingers of the past.
This exhibit takes you from an idea in George Lucas' head to a bounty hunter to a planet to a culture and beyond.

EXHIBIT: What's in a Name?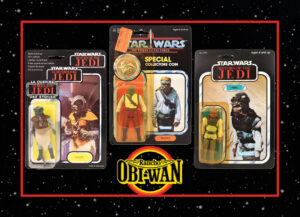 Explore naming in the Star Wars collectible universe over the years. Early names and misspellings indicate an unfamiliarity with the subject matter. Other names came straight from the dictionary or from your local restaurant menu. Tributes, puns, and parodies have all contributed to collectible naming and names continue to evolve…

EXHIBIT: Rancho Obi-Wan 10th Anniversary & Obi-Wan Kenobi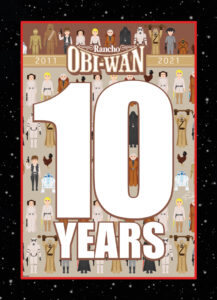 Rancho Obi-Wan turned 10 years old in 2021 and this year our namesake gets his own series. This is a tribute to Obi-Wan Kenobi and a decade of fun and fandom at Rancho Obi-Wan.

EXHIBIT: Cascading Grogu in Ombre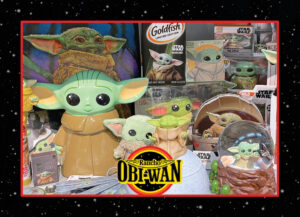 An art installation featuring our new favorite little green guy: Grogu.

EXHIBIT: The History of Star Tots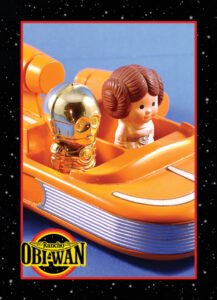 The Collecting Track has given Star Tots gifts at many Celebrations. But where did the idea of Star Tots come from?

The Spinning Wheel
More information coming soon…
Fundraising Raffle
More information coming soon…
Store
PLACE ORDERS BEFORE 11:55pm, SUNDAY, JUNE 12, 2022
These items will ship and arrive between July and August 2022.
ALL PRICES INCLUDE 7.75% SALES TAX
Trading Cards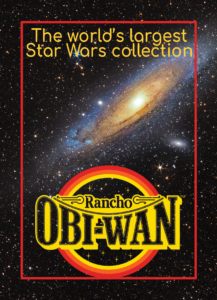 Trading Cards have always been a favorite collectible at Rancho Obi-Wan. So we decided to make a set reflecting what you'll see in our exhibits this year at Celebration.
Base set of 27 cards will be available at our exhibit store $15.00
Then collect additional cards by participating in activities at the booth and talking with The Saga Museum collectors and Rancho Obi-Wan directors.
P01. Promo: Become a Member
P02. Promo: Buy 4 Raffle Tickets
P03. Promo: Spin The Wheel 4 Times
P04. Promo: See the Exhibit
P05. Promo: Badge Mailer insert
P06. Promo: Buy a Lanyard Set
P07. Promo: Volunteers Rock!
C01. Collector: Steve Sansweet
C02. Collector: Gus Lopez
C03. Collector: Duncan Jenkins
C04. Collector: Lisa Stevens & Vic Wertz
D01. Director: Anne Neumann
D02. Director: Michael Wistock
D03. Director: Rich Smolen
D04. Director: Pete Vilmur
D05. Director: Dan Norgan