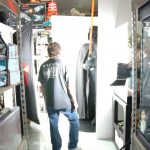 Once upon a time, in mid-2006, DK Books approached Steve to write a Star Wars collectibles book for them. They envisioned a book with a photo of nearly everything in the collection (!!) with a price-guide format. They hired Alex Ivanov, former photographer for Industrial Light & Magic, for a total of 35 days expecting him to be able to photograph a majority of the collection during that time. It was not meant to be.
The rest of this story is available to Padawan subscribers and above.
---
To receive full and exclusive access to more content, please login, subscribe, or upgrade your subscription to the Rancho Obi-Wan Virtual Museum.