Looking for a truly unique experience to offer as a corporate reward without the usual high cost? Or maybe you need an exceptional spot in the San Francisco Bay Area for a brainstorming session or a one-day corporate retreat? It could be that you are planning a birthday party for that special fan in your life? If you would like a memorable place for a meeting and meal with a high "Wow!" factor, visit Rancho Obi-Wan for an unforgettable experience. Rancho Obi-Wan has space for fans to host small to medium-sized events: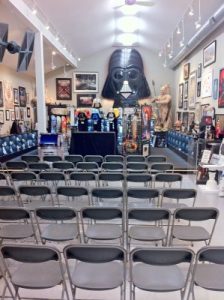 Business meetings
Brainstorming sessions
Video screenings on an 80-inch monitor
Catered lunches or dinners
Receptions
Weddings
Birthday parties for youngsters or adults
Anniversaries
Retirement parties
Other special celebrations
Depending on the size of the event and lead time, some of the following services will be required or can be arranged: catering, cake or other special dessert, floral, photography, videography, tents & tables, portable toilets, shuttle buses, invitations, goody bags, sheriff's security, and marriage ceremony. (Steve has been the officiant at a number of marriages. Please ask us for details about having him perform your ceremony.)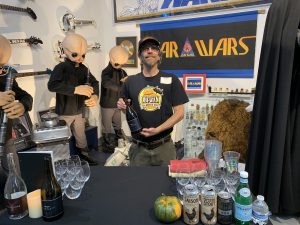 Rancho Obi-Wan staff has the ability to plan and provide a turn-key event by taking care of all planning and details in consultation with the host, who is responsible for paying all outside costs related to the event. Contact us for group pricing and to discuss hosting an event at Rancho Obi-Wan.