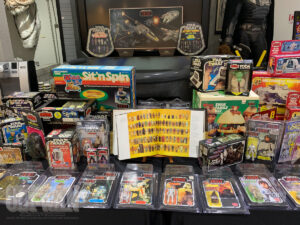 On 11/2/2019 Rancho Docent Dwayne Smith and collector Mark Huber led a tour taking a deep dive into vintage Kenner collectibles.

By Dwayne Smith
Kenner Star Wars toys have been a passion of mine since childhood. I, like many other first generation Star Wars fans, have many fond memories of cracking action figures out of their pristine packaging and directing them in my own space adventures.
Forty plus years later and I still get nostalgic about Star Wars, from collecting the memorabilia to enjoying a chat with other Star Wars fans about the toys we love.
So when I was asked to take some like minded guests on a deep dive tour into Kenner Star Wars toys at Rancho Obi-Wan, my immediate answer was "Yes!" I recruited my friend and fellow California Vintage Star Wars collectors club member, Mark Huber, to assist me with the presentation.
Mark and I are both Kenner fans and collectors. We know our facts, but to make our presentation a true deep dive we did our due diligence researching through the normal channels of collector books, web pages, and pod casts. But let me tell you, the best part of the preparation was without a doubt gathering up examples of all the vintage Kenner toys and products to display at the event. There was no better place to find these items then the back archives of the Rancho Obi-Wan museum.
Now Kenner toys are a cornerstone of Star Wars memorabilia and are prominently displayed throughout the museum. But In an effort to show case even more we had to do some good ol' deep dive digging.
Just off the main corridor I turned and shimmied myself sideways through a few narrow hallways lined with towering shelving units dimly lit by florescent lighting partially blocked out by boxes stacked way above my head. Each box brimmed and each shelf bulged out with assorted Kenner Star Wars products like puzzles, board games, mini action figures, large action figures, micro collection toys, play sets, vehicles, die cast toys, blasters, light sabers, play dough sets, coins, store displays, plush toys, just to name a few, and in most cases there are several variations and foreign examples of all of the above.
Discovering the plush R2-D2 that actually squeaks when you give him a squeeze and the Darth Vader light saber that whistles out loud as you swing it through the air were the top of my favorites list along with the many card board store displays and scores of carded action figures.
We amassed a giant mound of Kenner Star Wars toy bliss spread out over two long tables. Awe inspiring to say the least but it was only a mere smattering of the Rancho Obi-Wan collection.
When it came time for the tour, Mark and I stood behind the display tables as our guests gathered around the front. It was like being in elementary school again and we were about to have best show and tell time ever. We talked about the history of Kenner, the progression of the toys lines, and other products. Together with our guests we shared our Star Wars stories and reminisced about what an amazing era the Kenner toys brought us. We concluded with a tip of our cap to our friend and mentor, Steve Sansweet, who has made so many contributions to our fandom through his authoring of books and articles, his work in fan relations at LucasFilm, and sharing his own stories, knowledge, and the vast Rancho Obi-Wan collection with fans like us.
Video and editing by Rancho docent David Buckley.