February 3rd will be the ninth anniversary of my arrival at Rancho Obi-Wan. I remember the day with incredible clarity. I had started out from Austin, Texas on February 1st in my Honda Insight Hybrid full of clothes, computer equipment and my cat Claire. I drove by myself 12 hours a day through El Paso, Phoenix, Los Angeles and the San Francisco Bay Area to finally land at Rancho late in the evening on the third day. I was welcomed like I was family, shown to my temporary room…and promptly fell ill for three days.
When I emerged from travails of travel and illness I made myself familiar with the property and what was then really more of a warehouse than the museum it would become. There was a room below the library that I intended to make my personal area for my expected six-month stay, but it was filled with the latest "incoming" Revenge of the Sith merchandise—M&Ms, Hasbro cases, potato chip bags, packing material, cardboard boxes, displays, duplicates…piles and more piles. The hallway upstairs was lined with similar stuff, all ready to be placed on already groaning shelves, in the appropriate spots of course.
"My" room when I first arrived February 3, 2006
Steve was working for Lucasfilm at its Letterman Digital Arts Center headquarters in San Francisco at the time and I remember calling him during that first week to tell him that I was going to be "ruthless" in my cleanup. I think he was a little wary. But by the second week I had flattened and piled empty boxes into a stack seven feet tall, there were bags upon bags of packing material, my new room was empty and all the new
Star Wars
items were upstairs in the hallway.
Having settled myself and my cat in the now empty room, I set to work on the museum. I picked up some items from the hallway pile and walked into the front bay. And I stood there in the middle of the mountains of collectibles with no clue what to do. "Where does all this stuff go?", I thought. I must have walked round and round and round all the shelves and nooks and spaces scores of times trying to figure out where everything went. It was completely overwhelming.
Fast forward nine years. The entire museum has been transformed as much as I have been personally. I thought I would be heading back to Texas in six months, but here I still am. I have a husband, Stew, who is also dedicated to Rancho Obi-Wan's success. I have three wonderful cats (sweet Claire passed a year after I arrived, almost 20 years old), eight chickens, a freshly planted orchard and the support of Steve and our still fledgling nonprofit, Rancho Obi-Wan Inc.
Steve and I formed a friendship around trying to manage the world's largest Star Wars collection nine years ago. Today we are partners in an amazing organization that is dedicated to inspiring people of all ages. When I arrived, the collection was simply a bunch of stuff needing organization. Today, the museum attracts more than a thousand visitors a year, even more annual members and numerous sponsors and supporters. This week Steve led two tours for 4th and 5th grade students who were learning about inventions. We just hosted ABC News filming a show about the most influential movies of all time, and we are hard at work on our very special exhibit at Star Wars Celebration Anaheim.
The ability to transform one's passion into a career that in turn fosters passion in others has been the most rewarding result of the journey from my home in Texas to California, intent on completing a "temporary" project. Never in my wildest dreams…. So when "they" say follow your dreams, "they" aren't kidding. Just do it and see what can happen!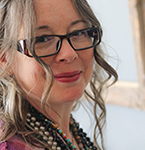 Anne Neumann is President and CEO of Rancho Obi-Wan, former Volunteer Coordinator and Fan Club Breakfast Manager for Official Pix, and previously a Systems Analyst at the University of Texas at Austin.