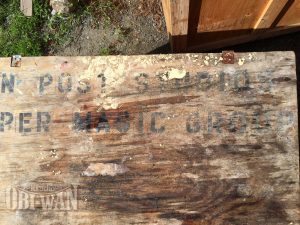 The odds are 0052 to 1!
Here are the random photos from our database associated with this number.

Darth Vader "The Tin Age" wind-up tin robot by Osaka Tin Toy Institute (Japan, 1997)
Construction on what is now the Tantive Corridor in the museum, circa 2010
Door prize tickets from Rancho Obi-Wan's Grand Reopening, November, 2011
Chuck Bowman presents Steve with our wood intarsia 501st medallion at Star Wars Celebration VI 2012
Our Rebel Trooper Carrier arrives on 11/14/2013. Made and donated by Chris Reiff, Cole Horton and Daren Murrer.
A Scout Trooper
Steve conducts the live auction at Rancho Obi-Wan's Gala 2014. Volunteer Dwayme Smith assists.
Don Post Studios donated the last of their molds to Rancho Obi-Wan in 2015. This was written inside one of the crate lids.
Darth Vader welcomes visitors to a party at Rancho Obi-Wan, 2015.
Obi-Wan Kenobi with Obi-Wan Kenobi, Star Wars Celebration Anaheim 2015
Robert Burden signs prints of his 20th Century Space Opera at Star Wars Celebration Anaheim 2015.
Darth Vader plushies at Star Wars Celebration Anaheim 2015.
Volunteers Jon Nagel and Melissa Hillman at a Rancho Obi-Wan fundraiser at Lagunitas Brewing May the 4th 2015.
Friend Sean Smith at Steve's 70th birthday party, 2015
Rancho's General Manager Anne Neumann at Gala 2015
Don Post Life-Size Stormtrooper monument
Artist Kris Penix's submission for our Death Star auction, 2020.