Some of the visitors to Rancho Obi-Wan are diehard collectors who have a mental list of specific things they want to see, such as our collection of carded vintage Kenner action figures. But until recently we've never had a guest who was looking to EAT a vintage collectible!
Adam Richman, a genial and knowledgeable pop-culture maven and longtime TV series host, was the first. We were approached in 2021 by a production company putting together a new series for the History channel with an unusual idea. They wanted Adam to revisit pop culture highlights of the 1980s by tasting them! And Star Wars was certainly one of those highlights.
Rancho has lots of packaging for licensed food products from the original Star Wars trilogy, but nearly all of them are empty. (There is that small box somewhere of mummified marshmallow character heads from the UK, but they weren't easy to locate.) Could we find some four-decade-old food for Adam to discover during a Rancho tour?
A few years ago at a collectors party during Star Wars Celebration there was a contest to see who could finish a bowl of 1984 C-3PO's cereal first. That was almost too easy since the cereal tasted like dry cardboard even when it was new! But we found a box of sealed 1983 Pepperidge Farm Return of the Jedi cookies in our archives. And we had sealed Topps cards and slabs of bubblegum from The Empire Strikes Back.
Would Adam be up to the challenge? Might I taste something too? I've chewed 20 year old Spanish Droids and Ewoks gum, but this was an even greater task. And once I smelled the excruciatingly vile chemical smell coming from the cookie bag, I decided to let Adam have the sole moment of glory.
A lot more happened during the 12-plus hours the crew was at Rancho, and the highlights, if not always tasty, can be seen in the episode of "Adam Eats the 80s" airing this Sunday night, April 10th on The History Channel!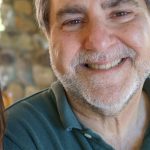 Steve Sansweet is owner and Executive Chairman of Rancho Obi-Wan, former Head of Fan Relations at Lucasfilm and contributor to
StarWars.com
, and previously the longest-running Bureau Chief of the Wall Street Journal in Los Angeles.
You may also enjoy Scouting the Galaxy with Steve Sansweet