We recently posted on our social media channels if you would like to ask Steve Sansweet a question? 🤔
Tons of you submitted questions for the opportunity to get an answer from our Executive Chairman and Founder.
We have randomly selected questions and have some of your answers now from Steve himself!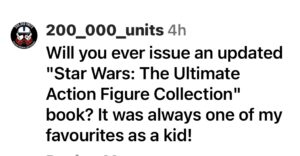 Glad to hear that The Ultimate Action Figure Collection was one of your favorites. It was a lot of work to plan, research all the figures and do the photography. All of us involved were thrilled with how it turned out! But the market for Star Wars collectibles books is largely being filled these days with amazing self-published books by worldwide collectors. I'm not currently involved in any new publishing projects. – Steve Sansweet

The most unique and rarest Star Wars action figure that was available for purchase was a figure of Vlix, a crime lord from the animated Droids television series. Kenner Products never produced it or other Droids characters in a planned second wave because the first wave didn't sell well and the series only ran one season in the mid 1980s. But for some reason, Brazilian affiliate Glasslite produced a Vlix in relatively low numbers in 1987. On a card, it's worth its weight in gold. – Steve Sansweet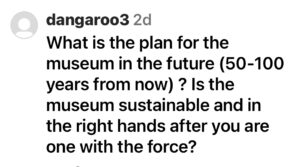 Fifty to 100 years? I'd be happy to solidify a plan for five to 10 years out. And our great board of directors is working on a strategic plan that could see a new kind of museum experience in that time frame. A lot of variables all have to go the right way, but we're all firm believers in that old Kenner Products marketing slogan: Star Wars is forever!- Steve Sansweet
Stay tuned for more #AskSteve answers (and photos) coming soon!