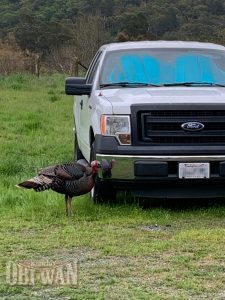 Rancho Obi-Wan is just that, a "Rancho." It's not big enough to be considered a "Ranch," but it's a charming little space just outside of Petaluma, Calif. We do, however, back up to larger fields and as such we have all kinds of wild animal visitors like deer, skunks, foxes, coyotes, weasels, badgers, and… turkeys.
I love all the animal visitors we have at Rancho Obi-Wan. Well, not so much the young skunk who had the temerity to walk right into the hen house the other day. Luckily, Sophia, Wilhelmina (our two Golden Phoenix hens) and I chased it away without the consequence of a spray.
Recently we noticed a turkey pacing in front of the shiny truck bumper every night. It was gobbling away at its reflection thinking it was talking to a fellow flock member. Wild turkeys are part of a larger community that wander together. It was important to prevent this guy from getting lost. View the video for my solution.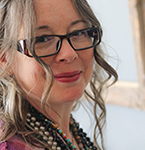 Anne Neumann is President and CEO of Rancho Obi-Wan, former Volunteer Coordinator and Fan Club Breakfast Manager for Official Pix, and previously a Systems Analyst at the University of Texas at Austin.