Rancho Obi-Wan has had many special visitors over the years, but few can compare to Ralph McQuarrie, the renowned concept artist responsible for so much of the look of the original Star Wars Trilogy.
Ralph's visit took place in the mid-February 2006, five years before Rancho expanded and became a non-profit museum open to members.
Still, there was plenty for the artist to see along with his "posse," including "The Art of Ralph McQuarrie" book publishers Stan Stice and John Scoleri, and British designer Paul Bateman and his wife Athena.
I pointed out one of my treasured possessions, the 1976 canvas banner that was used to introduce fans to Star Wars in 1976 at San Diego Comic-Con and at WorldCon in Kansas City. The early Star Wars logo was hand-painted by ILM head artist (and later film director) Joe Johnston. Also on the banner was something that sparked Ralph to say, "I remember painting that!" It was the iconic art of The Starkiller, the original last name of Luke Skywalker. This particular version had been cut out from a cast and crew T-shirt.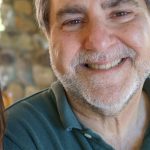 Steve Sansweet is owner and Executive Chairman of Rancho Obi-Wan, former Head of Fan Relations at Lucasfilm and contributor to
StarWars.com
, and previously the longest-running Bureau Chief of the Wall Street Journal in Los Angeles.