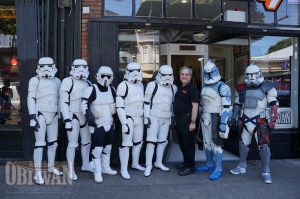 On May the Fourth, 2013, the Rancho crew packed up to do a special exhibit at Super7, a pop culture collectibles and clothing shop in San Francisco's Haight Ashbury neighborhood.

We filled one of the store's display windows with items from the Rancho Obi-Wan collection, including a life-size wampa costume that a Mexican fan had made. We were the guests of Brian Flynn, a collector, designer and the store's owner.
We had a table inside the store where a digital picture frame showed photos of Rancho. The table was filled with some of Steve's Star Wars books and Rancho patches for sale and we gave away colorful, informative cards about becoming a Rancho member. Seven members of the Golden Gate Garrison of the 501st Legion showed up in costume to take photos with the shoppers.
Bay area artist Jerome Liu was hard at work for hours inside the shop drawing colorful Star Wars caricatures on an 8-foot tall white panel. He was using black and orange markers, coincidentally the colors of Rancho Obi-Wan. Steve asked owner Brian Flynn where he was going to put the finished work, since the store was already tightly packed. Brian smiled and said, "Well, if you've got space at the museum, it's yours!" Ever since the wonderful piece has been hanging on a wall in Rancho's General Store.