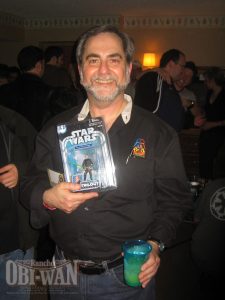 Star Wars Celebration III took place from April 21 to 24, 2005 at the Indiana Convention Center in Indianapolis, the site of Celebration II. The guest of honor was George Lucas himself, making his first fan convention appearance since the Star Wars 10th Anniversary con in 1987. Despite the date, there was a snowstorm overnight and the thousands of fans waiting in line outside to catch one of the three Lucas Q&A panels were ushered into the center to stay dry and warm.
Celebration III came a month before what was then thought to be the final
Star Wars
movie:
Episode III: Revenge of the Sith
. The big news came when Lucas announced plans for two
Star Wars
television shows: an animated series and later a live-action series (which unfortunately didn't come about until 14 years later).
Star Wars
celebrities had signing tables in the Autograph Hall, there was an Artists Alley and rooms for the 501st Legion and the R2-D2 Builders. Once again there were long lines to buy exclusive merchandise at the Celebration Store. The "big get" that year was a unique talking Darth Vader action figure from Hasbro. The voice was that of James Earl Jones, Vader himself. And the three lines were customized for the figure including, "Welcome to
Star Wars
Celebration III. Never will you find a more wretched hive of scum and villainy!"