I visited Poland in 2011 to attend a fan convention, "Fantasy Days: Between Science & Fiction." I was the guest of the editors and publishers of a short-lived Official Polish Star Wars Magazine.

Among the other guests was my friend, the lovely Femi Taylor who played Oola the dancing girl in Return of the Jedi. She portrayed Oola in the original release in 1983 and then returned to film extra footage for the 1997 Jedi Special Edition, looking just about the same as she had originally!
I did a slide show about Rancho Obi-Wan with the help of a translator, but judging by the laughs at some of my punch lines, much of the audience understood English. I also did a Question and Answer session about Lucasfilm and my various books. The convention was staged in a government-owned building that was used for all types of cultural events. I posed for photos and signed autographs; many fans brought copies of books I had written. I was given a plaque commemorating my position at Lucasfilm, embroidered patches, T-shirts and other goodies. A number of fans wore Star Wars costumes.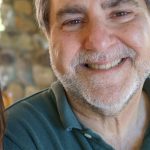 Steve Sansweet is owner and Executive Chairman of Rancho Obi-Wan, former Head of Fan Relations at Lucasfilm and contributor to
StarWars.com
, and previously the longest-running Bureau Chief of the Wall Street Journal in Los Angeles.