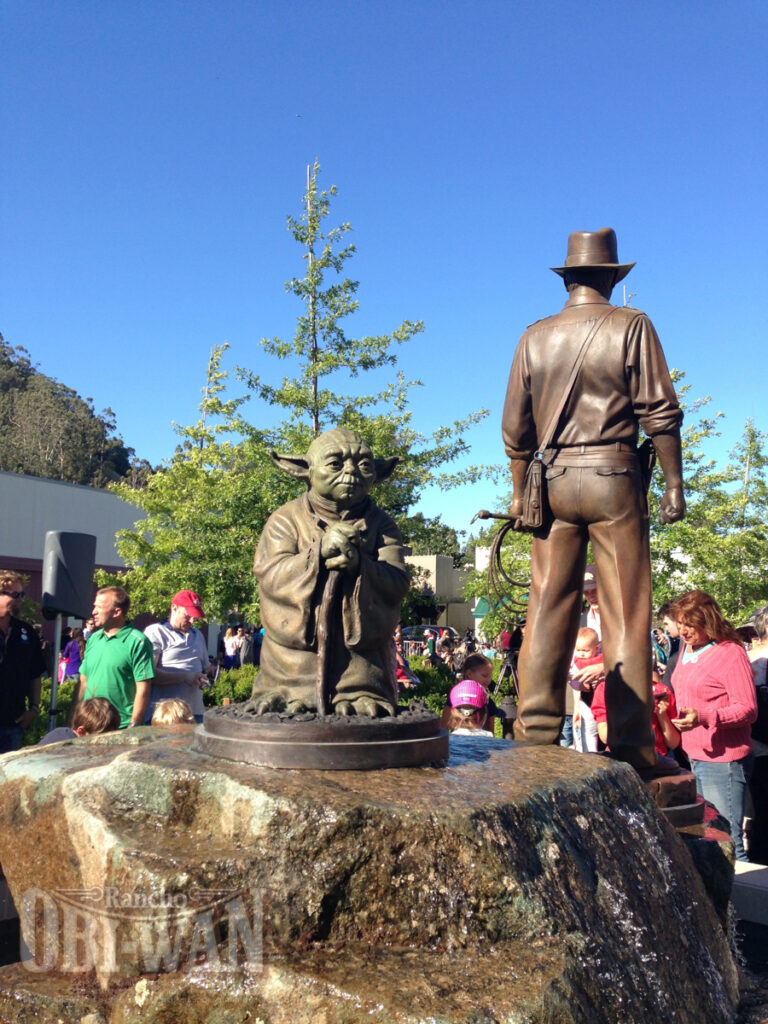 In 2013 George Lucas donated a parcel of land he owned in downtown San Anselmo, California, to a community foundation and paid to raze the commercial buildings on the lot. The Foundation constructed a lovely pocket park named Imagination Park on the grounds and Lucas, a longtime San Anselmo resident, donated two bronze statues to sit on a park fountain, one of Yoda and the other of Indiana Jones.

The gifts commemorate the creation of two of the most beloved movie sagas with plaques on the fountain noting "Star Wars, Created in San Anselmo, 1973," and Indiana Jones in 1974.
The statues were both sculpted by Lawrence Noble. The Yoda statue has become something of a symbol for Lucasfilm. There's one on a fountain at the Letterman Digital Arts Center, at the main building entrance to the Big Rock Ranch part of Skywalker Ranch, and a third at Lucasfilm headquarters in Singapore.
Rancho's Steve Sansweet and Anne Neumann were invited to attend the festive charity Grand Opening gala for the park. In attendance were Lucas and his wife Mellody Hobson, Lawrence Noble and his wife Libby, and a host of local political figures. There were dozens of food and drink tents along a closed-off street and Lucas and Hobson cut a ribbon to inaugurate Imagination Park—which had been named in a public contest.

Postscript:
There are currently 41 known Lawrence Noble life-size Yoda statues. Steve and four friends originally commissioned the Yoda in the early 1990's. Lawrence made an additional one to gift to George Lucas. These are numbered #/6 AP.
Then Lucasfilm approved a limited edition of 25 to be sold at retail. For every five made, Lucasfilm was to receive one for their own use. These are numbered #/30. One of the 25 was known to have been stolen from the delivery truck. The other 24 were sold, many in Japan.
As for the five given to Lucasfilm, one is installed in the fountain at LDAC, one was given as a gift to the landscape architect Lawrence Halprin, one is installed at Disney Burbank headquarters, and the final two are unknown.
When George Lucas commissioned the Indiana Jones statue for Imagination Park he also requested five more Yodas. These are numbered #/5 GWL Edition. One is installed at Imagination Park, one is at the Sandcrawler building in Singapore and the final three are unknown.
In 2019 Sideshow Collectibles announced they would be selling a new edition of the Yoda. They start shipping this November. More information on how you can own one of these Yodas, go here, here and here.