Actor, writer, producer Seth Green is, of course, a huge Star Wars fan. He has visited Rancho Obi-Wan more than once along with others (including producing partner Matt Senreich) from his Stoopid Buddy Stoodios production company (formerly Stoopid Monkey) in Southern California. It's hard to forget the Star Wars bits on Adult Swim's Robot Chicken along with the three special episodes that were parodies of the original trilogy movies. Remember the "commercial" for Admiral Ackbar cereal?

Seth's first visit here was in 2006, five years before the official launch of our nonprofit museum. He was like a kid in a candy shop, bubbling with enthusiasm and excitement. Nothing was too small or obscure to escape his view. And unlike Seth's presence at large conventions like San Diego Comic-Con International where he travels the con floor like he was the Flash, Seth took his time perusing the shelves at Rancho. He stopped at one of the glass vitrines that featured a precious prototype rocket-firing Boba Fett vintage action figure. "Steve," he nearly pleaded, "is there any way I could hold that? I promise I'll be careful."
"Only for you Seth," I said, a little shaky. I got the cabinet's key, slid the glass door open, carefully removed the Fett figure and gently handed it to Seth. He handled it carefully, then bent down a bit, moved one hand to the figure's back, and said, "So all you do is push down this little tab and the rocket flies like this?"
"Seth!!!" I shouted. "Got ya'!" he said. Then he laughed heartily and handed the figure back to me. I had been punked! Seth was also here for the Grand Opening party in November, 2011. He would disappear at times and we'd wonder where he had gone. Then we'd hear a noise from a roped-off area of the Museum where thousands of Star Wars objects were placed when they weren't on display. It was only Seth giving himself a special tour.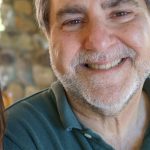 Steve Sansweet is owner and Executive Chairman of Rancho Obi-Wan, former Head of Fan Relations at Lucasfilm and contributor to
StarWars.com
, and previously the longest-running Bureau Chief of the Wall Street Journal in Los Angeles.