Unveiling Finn's helmet—from the most authentic line of prop replicas ever made. Rancho Obi-Wan is proud to take part in the unveiling of a new line that comes as close to screen-used props as possible. Thanks to Lucasfilm, we're excited to add to our collection this incredible FN-2187 Stormtrooper helmet with bloody handprint, part of the Star Wars Collectibles: Ultimate Studio Edition line. It's as close to a screen-used prop as you can buy.

The new line, unveiled June 1, is made to order by some of the same prop makers at Pinewood Studios who made the screen-used pieces. Under Lucasfilm's direct guidance, "the production process marries cutting-edge 3D printing technology with master craftsmanship to produce replicas virtually identical to those seen on screen." For more information and photos, go to www.starwarsultimatestudioedition.com.
I've had a chance to look at the entire starting line of eight pieces, and they're remarkable. The excitement starts with the unboxing process, since each piece comes in a custom-built wooden case with the Lucasfilm and Propshop logos as well as real and fantasy markings on the crates. Inside each crate is color packaging and foam cut to carefully protect the prop replica and unique display pedestal that almost seems to disappear, thus putting more focus on the prop replica itself. The heft of the FN-2187 helmet is perfect.

Among the initial items to be offered are the eerie Darth Vader melted helmet that Kylo Ren pays homage to, Rey's staff, Kylo Ren's helmet, Chewbacca's Bowcaster from The Force Awakens and more. A couple of the pieces are limited to editions of 500 each.
Each piece comes with a numbered certificate of authenticity and a heavy Star Wars logo medallion that contains a specific microchip identifying the individual prop replica. The rear of the medallion is etched with the name and art of the prop replica as well as the serial number.
"We're delighted to be able to produce such a groundbreaking line of merchandise," said James Enright, Assets Director and CEO of Propshop. "Designed, made and finished by the hands of specialist motion picture prop makers and artists, we've worked extremely hard to create something that we know would make fans and filmmakers proud."
Steve Sansweet is Chairman and CEO of Rancho Obi-Wan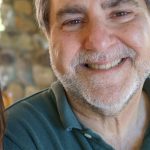 Steve Sansweet is owner and Executive Chairman of Rancho Obi-Wan, former Head of Fan Relations at Lucasfilm and contributor to
StarWars.com
, and previously the longest-running Bureau Chief of the Wall Street Journal in Los Angeles.