Last year I wrote a blog celebrating my ninth year here at Rancho Obi-Wan. All of a sudden another year has swept past and now I've been here a full decade! And what a year it was! With the anticipation and build-up to Star Wars: The Force Awakens, Rancho Obi-Wan had more than a few irons in the fire.
Throughout the year we hosted more than 100 tours of the museum that included friendly folks from Lucasfilm, Disney, retailers and licensees, Forbes, ABC News, Agence France-Presse, CBS Evening News, KNTV, MTime China, B Magazine Korea, Santa Cruz Skateboards, Space Channel Canada, NHK Japan and five local schools. We contributed tours as prizes for local charities to auction off. And Steve gave scores of interviews to both U.S. and worldwide media.
We participated in at least one large project every month in 2015, some of which you might have missed:
Hasbro's page-a-day retailer photo calendar counting down from May the 4th to September 4th's "Force Friday"–that magical day when the new toys were available worldwide.
Star Wars
Celebration in Anaheim. Robert Xavier Burden's immense "20th Century Space Opera" became the backdrop for the 900 square foot space as Steve performed the marriage ceremony of John and Melisa Graeber. The exhibit was filled with art and other fan-made items.
Photo by Victoria Webb Photography
Steve and I authored our first self-published book:
Inspired by the Force: Star Wars Fan Artifacts & Art
. Current
members of Rancho Obi-Wan
can purchase it in the
member-only store
.
For the second year, we participated in our hometown Petaluma's
Butter & Egg Days
parade along with members of the 50st Legion and other costumers.
"May the 4th be with you!" Local brewery Lagunitas hosted a small, but very popular, fundraiser for us. Come see us again this year on Tuesday, May the 3rd (May the 4th "The Prequel") for a silent auction, kids' costume contest and more!
Photo by Victoria Webb Photography
Kraft
Star Wars
Macaroni and Cheese
commercial
. Rancho Obi-Wan provided the set dressing and hero prop for the commercial and subsequent
website
.
PlayStation Battlefront
and
Toys "R" Us
commercials.
September 4th Force Friday! Steve was at Toys "R" Us in New York City for the big event along with special displays of vintage collectibles from the ROW vaults.
Photo via TheWookieeGunner.com
Rancho Obi-Wan's 3rd annual fundraiser "Galaween" celebrated
Star Wars
and Halloween! And the following month we hosted a tour and party for tattoo artists from all over the world.
Photo by Victoria Webb Photography
The Target &
Star Wars
Galactic Experience at LA Live (across from the Staples Center in downtown Los Angeles) featured a dome just for Rancho Obi-Wan treasures, titled "Galactic History".
December 18th, 2015
Star Wars: The Force Awakens
officially opened in the U.S.! For the record, Steve and I love the movie. What a fantastic time to be a
Star Wars
fan.
Star Wars
fandom is more ubiquitous than ever before. We love seeing the diversity of fans coming to visit the museum and it only reinforces our own love of this community.
We've been working on an exciting series of events for this year, both here at Rancho and elsewhere, and we can't wait to start sharing them with you. Thanks for your continuing support of our goal to inspire through the Force of imagination!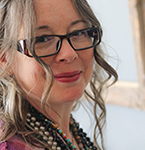 Anne Neumann is President and CEO of Rancho Obi-Wan, former Volunteer Coordinator and Fan Club Breakfast Manager for Official Pix, and previously a Systems Analyst at the University of Texas at Austin.