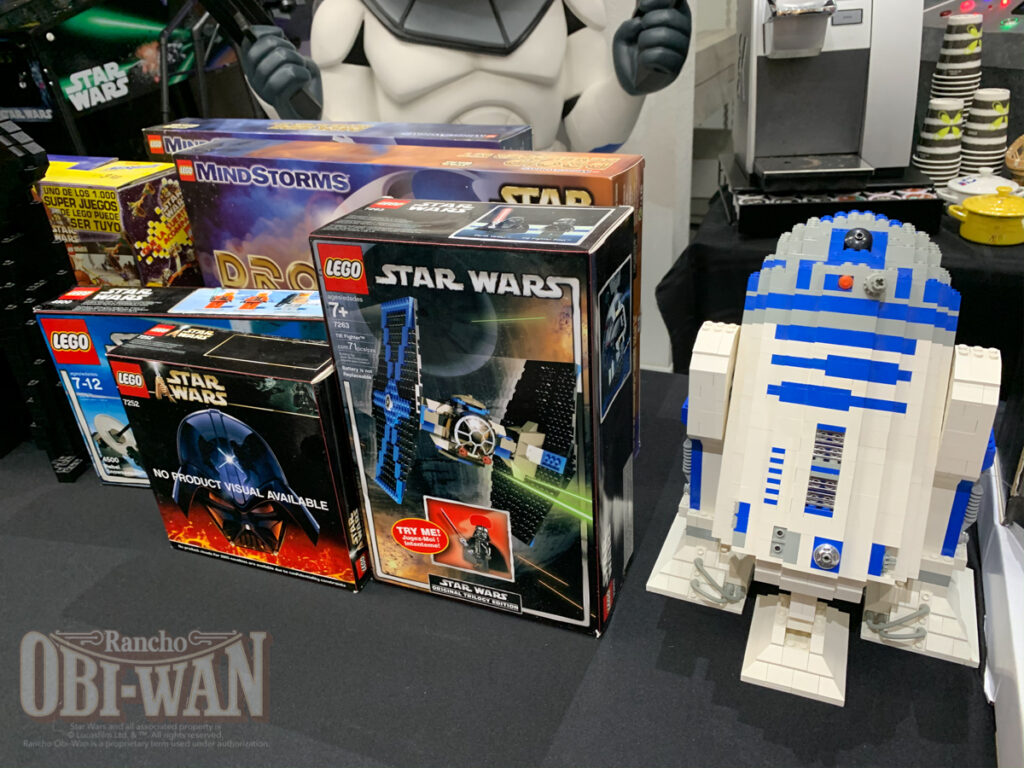 Being a docent at Rancho Obi-Wan has never felt like a job. Sure, I might get asked to lift some boxes, dust a little bit, maybe even vacuum from time to time. But I'm also allowed to navigate people through the biggest Star Wars collection in the galaxy. I get to watch people reclaim their youth by showing them a vintage Kenner figure or having them check out an old-school View Master. And I'm also allowed to talk about one of my passions…LEGO. So, when Anne asked me to take a group of LEGO Star Wars (LSW) fans on a Deep Dive tour of Steve's LEGO collection, I knew it was going to take some time prepare, but this wasn't work, this was a dream.

Most big time LSW collectors focus their attention on the Ultimate Collector Series sets, such as the 2007 UCS Millenium Falcon. Steve has all of those as well, but he also has LEGO that you'll rarely find on eBay. Take the 2013 New York Toy Fair Lego Yoda diorama. In this adorable and ultra rare (only 150 made) item, a minifigure Yoda stands on a New York City street corner, holding a newspaper that reads "Secrets to Reveal, There Are". Yoda is even wearing a t-shirt that classically reads, "NY I Emoji."
Back in 2005, Walmart threw a "48 Hours of the Force" celebration event, and LSW fans must have been drooling when they saw a Star Wars/M&M's mash-up mosaic. Made with over 5,400 1×1 plates, the mosaic shows a yellow M&M dawning the Dark Lord of the Sith's helmet.
Most LEGO collectors need to pick their jaws off the floor when they see that Steve even has the 1999 New York Toy Fair Promotional Diorama announcement. This small box opens from the front revealing Luke and Vader having a little chat about destiny.
The LEGO Deep Dive shared all of this and more, but Steve's real point of pride is his collection of fan art. Sabs Feigler, a former intern at LEGO, built a 2007 UCS Millenium Falcon, but instead of using light blue grey bricks, Sabs decided to paint it GOLD and PURPLE! Lando Calrissian is its pilot and he dawns a purple fedora and holds a paint roller instead of a blaster.
As a special treat, master builder Arlan Hiebert brought his Millenium Falcon MOC (My Own Creation) for the Deep Dive event. Arlan used no computer program to build his masterpiece but rather relied on production photos from the original trilogy. It took years and over 10,000 bricks for Arlan to finish the YT Light Freighter, but he also made sure that the Falcon had an accurate interior. Fans have truly embraced LEGO as a way to show their creativity and love for Star Wars.

Marc Morita is a Rancho Obi-Wan docent and LEGO expert. His current focus is building custom multi-colored versions of Imperial vehicles. In his other life he is a teacher in Napa County with a beautiful daughter and a Basset Hound named Biggs.