Kellogg's released C-3PO's cereal in the U.S. and Canada in 1984, the first-ever Star Wars-branded cereal. During its relatively brief life, there were character masks on the back of each box to cut out, sticker-covered trading cards, and something that seemed pretty far out even for Star Wars.
One of the first premiums available in specially-marked boxes was the "Rebel Rocket," a plastic rocket that you launched with air pressure. The Rebel Rocket came with decals to decorate it with familiar Star Wars designs. Since there are few rockets or missiles in the original Star Wars trilogy, the premium seemed odd to say the least. Certainly it was cheap, and probably remade from very old molds.
It turns out this wasn't the last appearance of the Rebel Rocket. Ad Pac, a company that specialized in producing food premiums, reissued the Rebel Rocket in 1989 in General Mill's Lucky Charms cereal, this time re-branded as "Lucky's Magic Rocket" and available in four colors: pink, yellow, green, and orange. Similar to the Rebel Rocket premium, kids could decorate it with different decals such as Lucky jumping for joy at the marshmallow goodness of Lucky Charms cereal. In 1991, Ad Pac rereleased the rocket for Dairy Queen as "Marshmallow Moose's Rocket" and "Butterscotch Beaver's Rocket," again with different decals to recreate the adventures of Butterscotch Beaver's rocket trip.
Even C-3PO's cereal itself was recycled by Kellogg's. The company decided in 1987 that the nutritional properties and taste of C-3PO's could be sold as the food of choice for Ironman triathletes in a new cereal, "Pro Grain." Like its predecessor, it wasn't available in stores for long. It consisted of the same honey, wheat, oat, and corn infinity-shaped cereal as C-3PO's. Pro Grain even "goes up to 11" with the extra push of 11 "essential" vitamins and minerals, one more vitamin than C-3PO's. Unfortunately for Kellogg's, triathletes didn't adopt Pro Grain as their choice for "Ironman food."
Fans of C-3PO's cereal may be interested to hear that a group of truly crazed Star Wars collectors held a C-3PO's eating contest at a party at Star Wars Celebration VI, opening a sealed box of C-3PO's. I can't say what possessed these folks to try 28 year old cereal, but following the contest over 20 party guests tasted vintage C-3PO's with no casualties…and it tasted about the same as it did in 1984. But kids, please don't try this at home!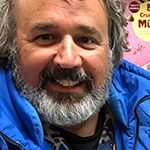 Gus Lopez, a preeminent
Star Wars
collector, created
The Star Wars Collectors Archive
in 1994, the first of its kind. He coordinates the Collecting Track at
Star Wars
Celebration and has co-authored four books on
Star Wars
.font>