I got an invitation to visit Creature Features and share Rancho Obi-Wan with the denizens of one of the longest-running media enterprises in the San Francisco Bay area—and nationwide. Originally shown on local TV stations from the 1960s to the 1980s, Creature Features is now online, showing an often-cheesy cult Sci-Fi or Horror movie every week.  
The real treat of shows like this (I grew up in Philadelphia watching Shock Theater with host Zacherle covered in shoe-polish makeup) is watching the hosts interrupt the movies with remarks dripping with sarcasm or puns. The latest version of Creature Features is hosted by former heavy metal musician Vincent Van Dahl from the "haunted and historic Poulter Manor in Bodega Bay, California."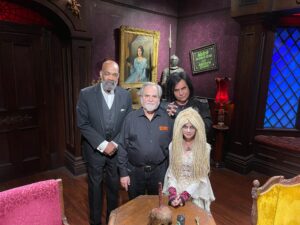 Vincent is joined every week by his very peculiar housemate Tangella and his loyal valet Mr. Livingston. But we got an unusual request. Could Tangella visit Rancho in advance to record a quick walk-through, which would be shown during the course of the movie? Of course we said yes!
You can watch her four-minute escapade here!
When I arrived at "Poulter Manor" I was escorted into a large and creepy room, and was greeted by Vincent, Tangella and Mr. Livingston. Everyone was very friendly and the movie screening on that show was a 1979 Italian psychotic nightmare called Star Odyssey, a dreadful attempt to recreate some of the thrills of Star Wars. About all I can remember are a pair of  lovey-dovey male and female duck-faced metallic robots. Oh. There were also cardboard laser swords covered with fluorescent paint.
In between the movie bits, which Vincent had great delight making fun of, we chatted about Rancho and other world-shaking issues. You can watch the movie and our chat!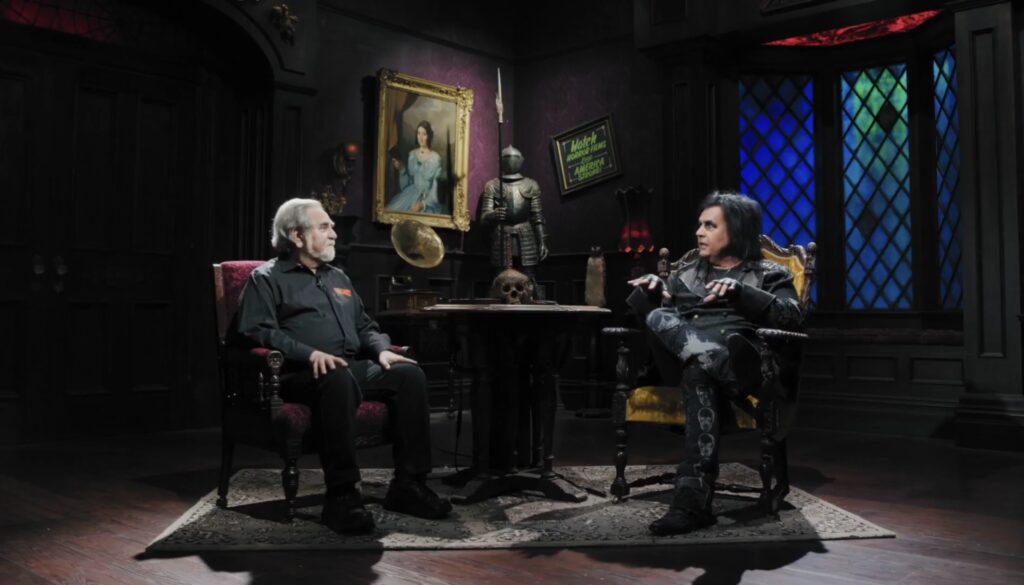 After we recorded the show, I had more of a look around "Poulter Manor" (see the assorted oddities, portrait gallery and pipe organ photos below!) Then we all settled in for a tasty Italian dinner and great conversation.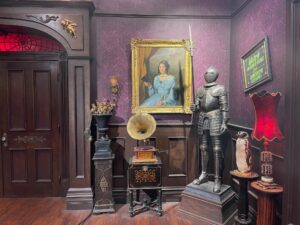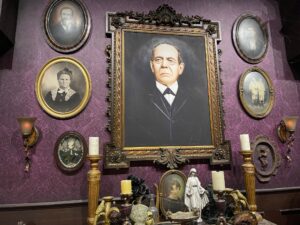 Now I've got to see if I can convince a friendly R2-D2 Builder to create a duck-faced cyborg!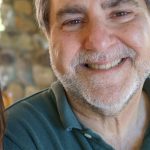 Steve Sansweet is owner and Executive Chairman of Rancho Obi-Wan, former Head of Fan Relations at Lucasfilm and contributor to
StarWars.com
, and previously the longest-running Bureau Chief of the Wall Street Journal in Los Angeles.
Explore more Happenings with Rancho Obi-Wan