I recently had the tremendous honor of representing Rancho Obi-Wan on Star Wars Day, by throwing out the ceremonial First Pitch before the baseball game between the San Francisco Giants and Philadelphia Phillies, on the field at 24 Willie Mays Plaza in San Francisco on 9/4/22. Made it to The Show! Got a Major League cup of coffee. I was THRILLED to be there (and threw a strike)!
It was very fun and inspiring to bring the Rancho Obi-Wan experience to the ballpark on a glorious, sunny day by the bay at McCovey Cove. ROW has participated in several Star Wars Day events in recent years. It's been successful and rewarding because of the high spirit of collaboration amongst our staff and volunteers, and SF Giants promotions group. This year was fabulous in every way.
Pre-game festivities for special event ticket holders included food, drink, an Orange (or black) Funko C-3PO and other schwag, and a rare outing with Jabba The Hutt! We schlepped Jabba from his palace on the ranch, and set him up with grand style in Triples Alley between the outfield and the water! Raffles of some cool items raised money to support Rancho Obi-Wan's mission, including original art created on site by Randy Martinez.
I left Triples Alley early, along with my son Ian, ROW photographer Victoria Webb, and the "Play Ball Kids" – Kylie and Kaden with dads Brian and Dwayne, to be escorted to the field. The journey included several 'hurry up and wait" stops along the way, in hallways, green rooms, "The Tunnel" and on the field. We were joined by a colorful galaxy full of costumed troopers, cosplayers and super fans. The force was strong, but my stomach was a little nervous while waiting around in anticipation. But I was confident and well prepared, because I threw bullpen sessions on Friday and Saturday with Scott Ruether and Marc Morita. Thanks for catching me, bros!
On the field, there was a flurry of activity and stimulus. A 12-year-old girl sang a stunningly great version of the national anthem, and then I walked confidently to the pitcher's mound, escorted by Rey, Obi-Wan and Anakin. After being introduced by long time Giants PA announcer Renel Brooks-Moon, all the fanfare and energy of the crowd faded into the background. When it finally was time to throw the pitch, my focus was 100% on the catcher (coach Taira Uematsu). I hit the glove. A magnificent 4-seam fastball, topping out at 45-50 mph, then sinking in for a strike at the knees!
My work was done, along with my 15 minutes of fame, and it was time to relax and enjoy the game in a suite shared by Rancho Obi-Wan and Skywalker Vineyards. Positive energy and awesome company everywhere. To top off an already wonderful, exciting day, the Giants won the game and the weekend series sweep, with a walk-off home run in the bottom of the 9th inning. And the crowd went wild!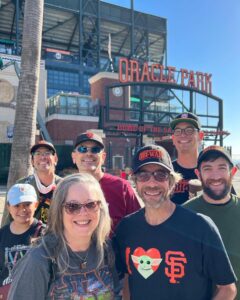 All this awesomeness happens because of the incredible synergy we have in the Rancho Obi-Wan community of friends and family. We have the kindest, most talented and dedicated crew, and a very supportive global membership to make all this fun possible. On behalf of Anne and Steve, I want thank you all for your friendship, inspiration and support.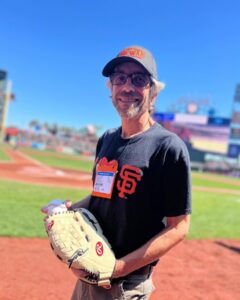 MTFBWY and Play Ball!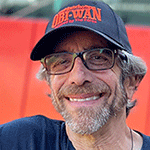 Stewart Levy is Manager of Randomness at Rancho Obi-Wan with many roles: debris-man, writer, editor, shipping and receiving, bartender, greeter, advisor, mover, and more.
Explore more Happenings with Rancho Obi-Wan