Join us here on the Virtual Museum to celebrate our 10th anniversary! Make sure you have a current subscription to the Virtual Museum in order to view the video stream.
If you joined us last year for the Virtual Gala you already have an account here, but you may need to add a Virtual Museum subscription. You can do that by first logging in to your account and then add a Virtual Museum subscription. Reset your password if needed to get in to your account.
If you have had a Virtual Museum subscription in the past and it is on pause or has been cancelled you can reinstate the Virtual Museum subscription from your account page.
If you did not join us for last year's Virtual Gala and you do not have a Virtual Museum subscription, please sign up for a new account. You can pause or cancel anytime.
This year we're going to spend a lot of time inside the museum showing you some of our favorite things. We'll also show some typical behind-the-scenes projects.
Have a question? This week, please Tweet @RanchoObiWan your question using #askROW for a chance to have your question answered by the Rancho Obi-Wan team.
And let's do a "reverse" scavenger hunt! Can Steve find it? This week, please Tweet @RanchoObiWan an item you would like Steve to find in the museum using #ScoutingWithSteve
There will be no auction this year, but we will have some merchandise available via CustomInk through November 1st.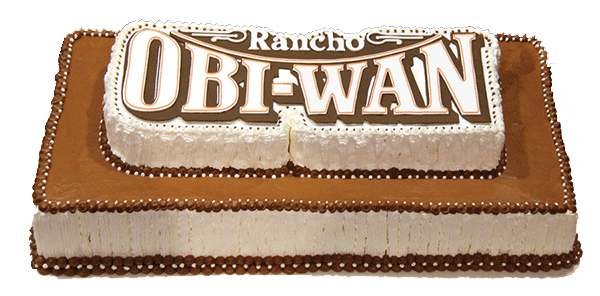 Finally, this is a fundraiser and we really appreciate your help.
There are many ways to support us:
Are you a past or present Member and want to catch up to 10 years? Contact us for your specific PayPal link.
New to ROW? Donate for the entire 10 years at once. It's like you were here from the beginning!
Shop on Amazon? Use smile.amazon.com and choose Rancho Obi-Wan as your designated charity.
Sell on eBay? Donate a portion of your sales to Rancho Obi-Wan.
Pay with PayPal? You can add $1 or more with your purchases via the PayPal Giving Fund.
Do you shop on HumbleBundle.com? You can choose or change the charity on the product page to Rancho Obi-Wan!
In-kind donations that we can auction also help. Contact us to tell us what you have.
Many employers will match your monetary donations. Just send your charity administrator a receipt!
We're super excited to share the museum with you. See you soon!